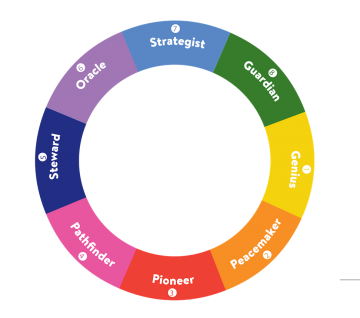 The Wheel of Wisdom: A Quest in Dialogue
What is your life's quest? How well do you know it? Would you like to explore this, open it up, illuminate it, nourish it, along with other questing folk?
Starting on Tuesday 4th October 2022
"We grow wise together"

– Margaret Wheatly.
How can We learn to act with more wisdom? How can I learn to act with more wisdom? These questions go hand in hand. Wise people need wise people with whom to act wisely!
This course is a special quest to discover your own path towards wiser action, working among others who share the journey in the ways that they also choose to do it.
The Wheel of Wisdom proposes a set of perspectives from indigenous practice, that bring fresh viewpoints, energy and insights to our most serious concerns.
These 12 online work-and-wonder sessions will open each of the perspectives for everyone, in a space for learning in dialogue. *
The key to the perspectives is their substantial difference, and their sequence, creating a radical journey of exploration, discovery and learning: for me as a person, and for us as a group.
We are invited to take this journey with a question that is generated and shared by everyone in the participating group. This will allow for questioning and dialogue during, and potentially in between, sessions.
Outline and Timing:
We will do this in 12 sessions of 90 minutes each (10 for the Quest, and 2 for overview) on Tuesday evenings from 7pm/19:00 to 8.30pm/20:30 UK time, as follows:
| | | |
| --- | --- | --- |
| Session | Content | Date |
| | Warm-up Webinar – the journey in outline | 7pm BST, 4 October |
| A | Introduction, forming our Quest | 7pm BST, 25 October |
| B | First Perspective – Disruptive Genius | 7pm GMT, 1 November |
| C | Second Perspective – Peacemaker | 7pm GMT, 8 November |
| D | Third Perspective – Pioneer | 7pm GMT, 15 November |
| E | Fourth Perspective – Pathfinder-Narrator | 7pm GMT, 22 November |
| F | Reflection Session: halfway through | 7pm GMT, 29 November |
| G | Fifth Perspective – Steward/Chatelaine | 7pm GMT, 6 December |
| H | Sixth Perspective – Oracle | 7pm GMT, 13 December |
| I | Seventh Perspective – Strategist | 7pm GMT, 10 January |
| J | Eighth Perspective – Guardian of Transformation | 7pm GMT, 17 January |
| K | Conclusion – Gleanings from the Learning Journey | 7pm GMT, 24 January |
*If you joined a previous Wheel of Wisdom course, you should find yourself well prepared to go deeper with this one, and that it builds great active thoughtfulness among the group.
The number of participants is limited to 12, with much of our dialogue happening in smaller groups.
The main sessions will be framed as follows:
– Checking in: Reviewing our personal and collective states of self
– Interpreting and embodying the Perspective in hand
– Work on questions in the Perspective
– Deepening appreciation in dialogue
– Agreeing what to take forward until next session
We will learn together, making optimum use of the time that we have.
Slides and main guiding information only will be recorded and shared with participants after each module.
Technical details:
This course is hosted on Zoom, and the session will be recorded. We recommend participating with a high resolution screen so you can view it when the host shares his screen. Course participation by mobile phone is not recommended.
About the tutor:
The course is led by David Adams, an H3Uni founding Trustee, charity chair, former consultant, organisation strategist, executive coach and open space facilitator. He is trained in indigenous wisdom teachings of North America, and convenes groups for dialogue.